Sending Confidential Documents to the Registrar's Office
The Registrar's Office is committed to protecting the security of student data and information. To ensure we are meeting this goal, we have developed policies around how information can be transmitted to and from our office.
The Registrar's Office does not accept sensitive and personally identifiable information via email. If you have the need to submit forms, documents, and other information that contains this type of information, you may do so using the web-based secure file sharing application called File Locker. File Locker facilitates easy file sharing between users and promotes secure data sharing habits. The application uses https encryption for confidential data. For your protection, we do not accept documents containing this information via email.
What is considered Confidential data?
Confidential or sensitive data is any document or form that contains personally identifiable information about you or your family members (i.e., SSN, DOB, GPA, etc…) that could be used maliciously if intercepted. This includes, but is not limited to the following types of documents:
Statement of Identity form
Using Filelocker
In order to electronically share a confidential document with the Registrar's Office, please send an email to infoserv@appstate.edu requesting a link to the File Locker application or call us at (828) 262-2050 to speak with someone. We will respond by sending you a secure link to the File Locker application, which will allow you to safely upload your documents and share them with our office. The following screenshots illustrate the process:
1. After contacting the Registrar's Office, we will email you a link.

2. The link opens the Filelocker application wherein you will locate and upload the document file.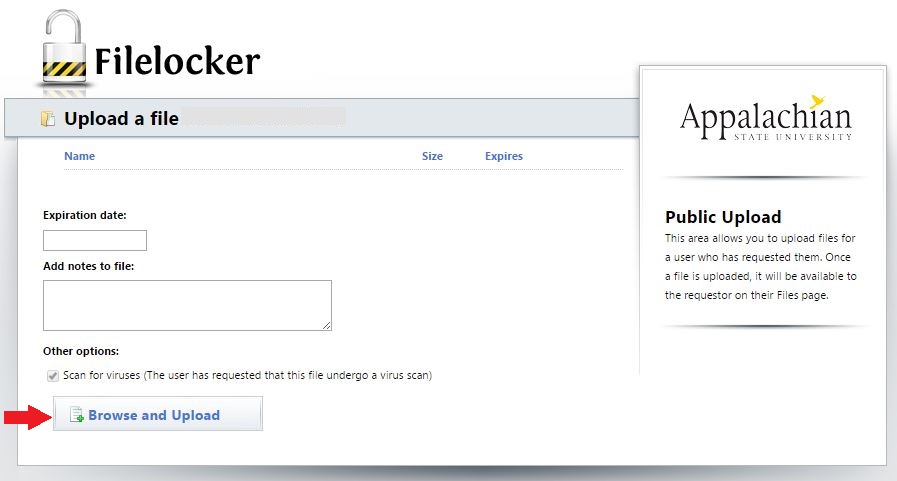 3. After uploading, the file is displayed. If you need to send us another document file, please contact us to receive another upload request link.